10 Marketing Trends for 2023 You Must Know!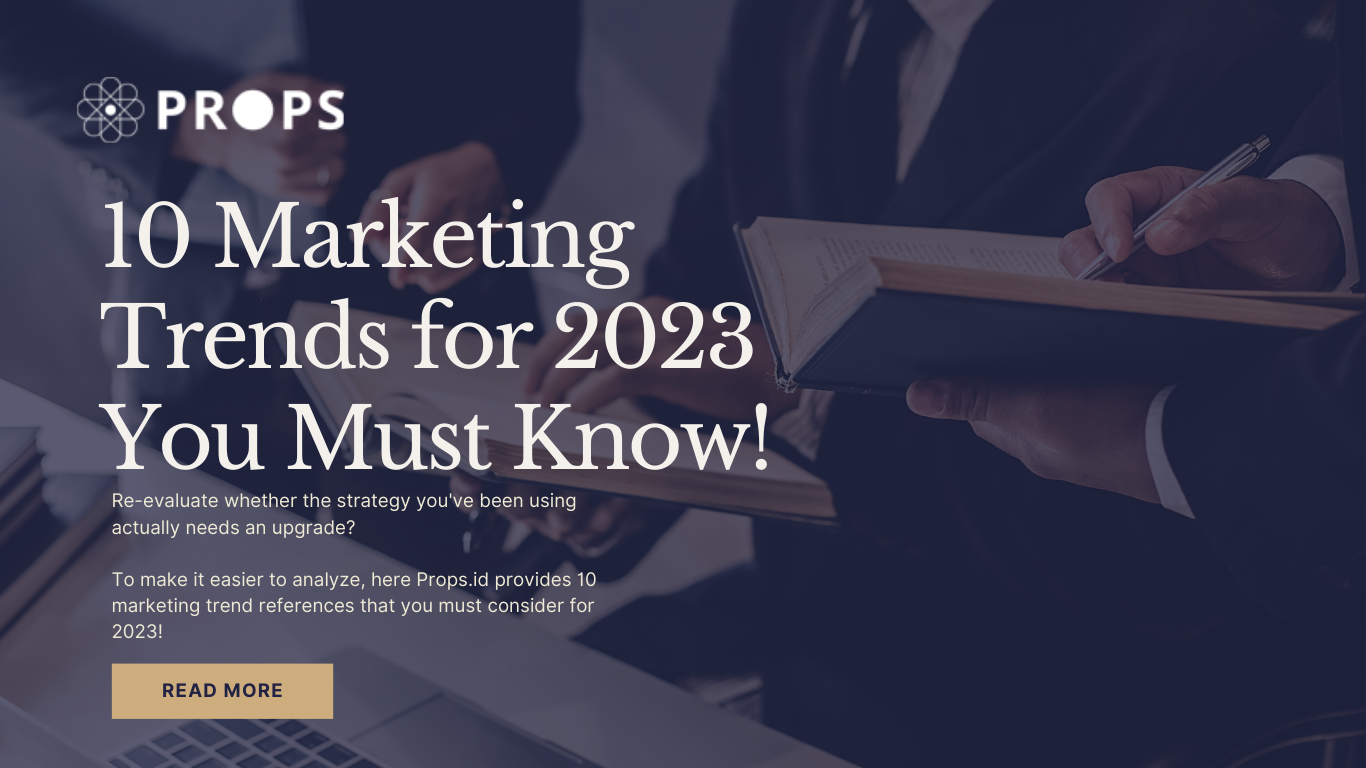 Preparing an effective marketing strategy is very important for digital marketers in 2023. The digital market continues to develop and become more competitive, so it requires the right approach to marketing products or services. By having a mature marketing strategy,digital marketer can determine the right target market, choose effective channels to reach it, and create messages that sell. This will help ensure that your business can achieve its goals and get the desired results from its digital marketing efforts.
Therefore, you need to know what the marketing trends 2023 will develop. Props.id has summarized the complete data especially for you below. Check out the following article!
1. AI
Artificial Intelligence (AI) is an artificial intelligence program that can predict consumer behavior and activity patterns. In 2020 alone, AI is used by the majority of software products and services on the market.
Chatbot is one example of technology that relies on AI. Another example of technology that relies on AI speech recognition and automatic content generation. One of the most popular speech recognition features is Google voice search.
2. Video Marketing
Video marketing is included in the marketing trends in 2023. This is because video consumption on mobile devices continues to increase every year. In general, when discussing video marketing, the platform that is discussed is definitely YouTube. In fact, you can also do video marketing on other platforms, such as Facebook and Instagram. You can even do it on TikTok!
3. User Generated Content (UGC)
User Generated Content (UGC) is content created by consumers or followers of your brand. Like you offer them a gift. Usually, content of this kind is created in order to meet challenges (challenge) provided by the brand. Prizes offered can be in the form of products, coupons, discounts, and the like.
UGC is one strategy worth paying attention to. Audiences say UGC influences their decisions. This is because UGC can increase interaction with the audience.
4. Social Media Stories
There are lots of social media that have a stories feature. Starting from Snapchat,Instagram marketing, untilFacebook marketing. The popularity of this feature certainly means that stories are a feature that is considered to have great potential.
The proof is that there are many benefits that can be enjoyed from stories. Examples include using hashtags and location tags, conducting surveys via polls, creating quizzes, and directing visitors to the website.
Stories is one of the marketing tools that you need to take advantage of in 2023. Not only are many platforms eyed ─even now Youtube also has a stories feature─, many brands are also using it as a marketing tool.
5. Social Commerce
The next marketing trend for 2023 is social commerce, Social Commerce is a combination of social media and e-commerce. So you can enjoy both through this feature.
In other words, you can publish via social media. You may have seen examples on Instagram accounts that market products through posts on Facebook or marketplaces.
The number of users on each social media platform shows an increasing trend from year to year. That's why social commerce is one of the marketing trends to consider in 2023.
6. Hyper Personalization
You probably know that personalization is a must when building a content marketing strategy so that your campaigns reach the right audience. However, it turns out that there are other ways to make content reach your audience that are much more relevant to their needs and interests. For example, you can use the hyper-personalization feature on several platforms that you have, the feature will be recommended based on the user's search history.
7. Voice Search
INvoice search performs a voice search. Just by talking, you can already find what you are looking for. You can even give orders through voice search.
Do you need to consider voice search in your marketing plan? I think so. Because more and more searches are done through voice search.
Then how can your website be optimized for voice search? Voice search relies heavily on semantic words when displaying search results. Therefore, you can start by learning about latent semantic indexing (LSI) keywords.
8. Interactive Content
You need to know about Interactive Content. If traditional content such as blog posts only focuses on presenting text and images, interactive content aims to present features that also invite interaction from readers. These features can be in the form of surveys, polls, interactive emails, and interactive infographics.
9. Internet of Things (IoT)
Internet of Things (IoT) is a term often used to describe the concept of connecting various devices to the internet. Examples include smartwatches and smartphones.
One of the main causes of the positive trend of IoT is the development of 5G technology. This technology is designed to connect various devices with a faster and more reliable connection.
With the development of IoT, digital marketing practices can shift. From what was originally limited to cell phones or laptops, now you can move to other devices. In the future there will be more advertisements or services on devices that have never been imagined before.
10. Push Notifications
Browser push notification, which is a feature that functions to notify browser users to do something. In addition, this method is also increasingly popular. If you're interested, maybe your website can be included in it too.
After reading the article above regarding 10 marketing trends in 2023, which one made you interested in trying it? Do you want to include chatbot features on your website? Or maybe you want to start creating interactive content to market it? Whatever you choose, make sure it fits the needs of your website.
If you are not familiar with these things,our team is also ready to help you here.
Source :Marketing Trends 2023