Maximizing Ad Revenue: Strategies for Google AdSense Publishers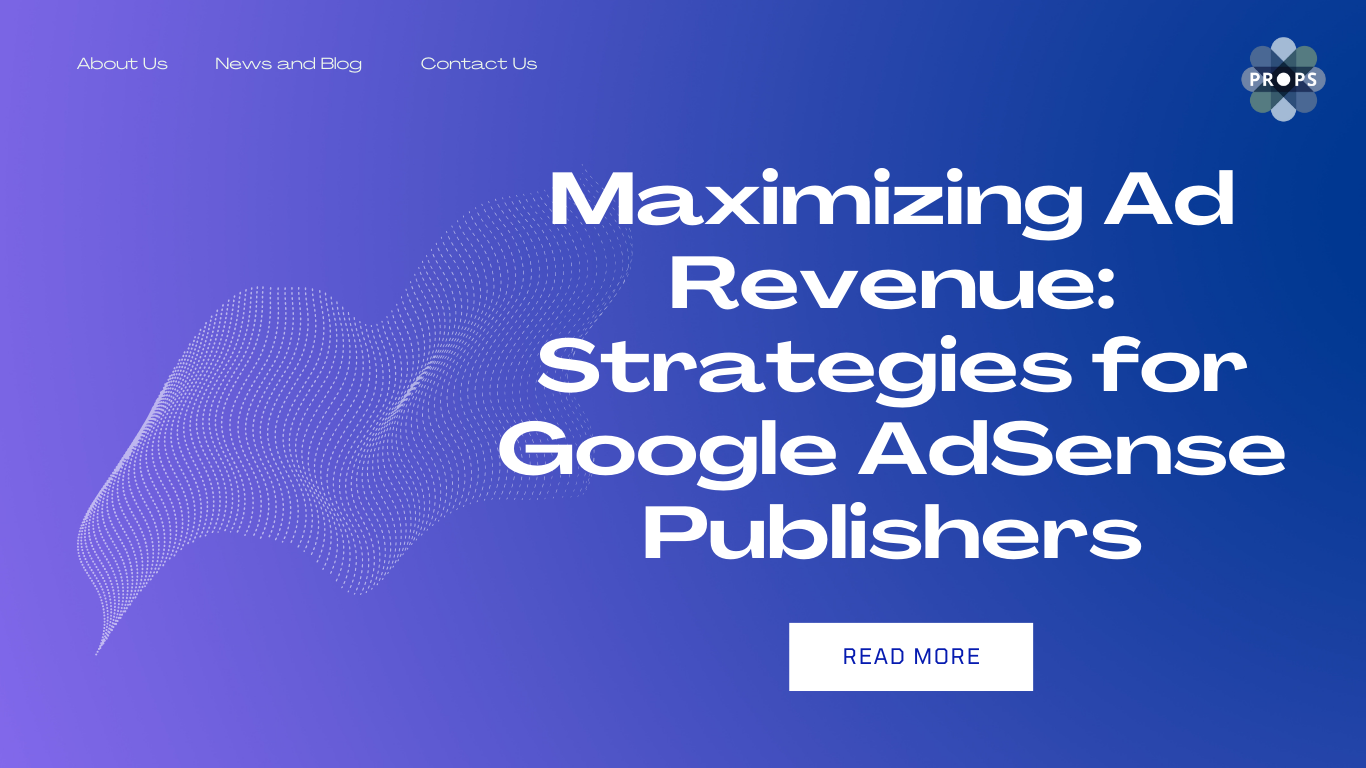 Google AdSense is a widely-used advertising platform that allows website owners and content creators to monetize their online content. Whether you run a blog, a news website, or any other type of digital platform, Google AdSense can be a valuable source of revenue. However, to maximize your ad revenue, it's essential to implement effective strategies. In this article, we'll explore some proven strategies to help Google AdSense publishers make the most out of their advertising efforts.
1. Optimize Ad Placement
One of the fundamental aspects of increasing your AdSense revenue is optimizing the placement of ads on your website or channel. Strategic ad placement can significantly impact user engagement and click-through rates. Some key areas to consider include:
Place ads in the visible portion of your webpage or video player, so users see them without scrolling. This is often where the most valuable ad impressions occur.
Near High-Engagement Content
Position ads near your most engaging content or where users tend to spend more time. This can increase the likelihood of clicks.
Insert ads within your content naturally, so they appear as part of the user experience rather than disruptive elements.
Ensure your ads are mobile-friendly, as a growing number of users access websites and videos on smartphones and tablets.
Google AdSense provides a tool that can help you visualize the best positions for ads based on user interaction.
2. Experiment with Ad Formats
Google AdSense offers various ad formats, including text ads, display ads, responsive ads, and more. Experimenting with different formats can help you identify which ones resonate most with your audience. For example:
These are typically less intrusive and can blend seamlessly with your content.
Image-based ads can be eye-catching, but they might be seen as more intrusive by some users.
In-Feed and In-Article Ads
These ads fit naturally within the flow of your content, making them less disruptive and more engaging.
Consider using video ads to increase your revenue. They can be placed at the beginning, middle, or end of your videos or articles.
By testing different ad formats and analyzing their performance, you can find the best mix for your audience and content.
3. Implement Ad Blocking Solutions
Ad blockers have become increasingly popular, and they can significantly impact your ad revenue. To counter this, consider implementing ad-blocking detection and requesting users to disable their ad blockers. Be sure to provide a compelling reason, such as supporting free content or helping maintain your website or channel.
4. Focus on Quality Content
High-quality content is the foundation of any successful AdSense strategy. The more engaging and valuable your content is, the more likely users are to stay on your site, increasing ad impressions and click-through rates. Invest in creating well-researched, informative, and entertaining content that resonates with your target audience.
5. Monitor and Analyze Performance
Regularly monitor your AdSense performance to identify trends and areas for improvement. Use Google Analytics or AdSense reports to track metrics such as click-through rate (CTR), cost per click (CPC), and revenue per thousand impressions (RPM). By analyzing this data, you can fine-tune your strategies and optimize your ad setup.
6. Regularly Update Your Content
Fresh content can attract more visitors and keep your existing audience engaged. Regular updates can also improve your search engine rankings, which can lead to more organic traffic and increased ad revenue.
7. Stay Informed About AdSense Policies
Google AdSense has specific policies and guidelines that you must adhere to. Stay informed about these policies to ensure you don't violate any rules that could result in your account being suspended or banned. Compliance is crucial for maintaining a healthy AdSense income stream.
In conclusion, maximizing ad revenue through Google AdSense requires a combination of smart strategies, regular optimization, and a commitment to providing value to your audience. By implementing these strategies and continuously refining your approach, you can increase your AdSense revenue while maintaining a positive user experience on your website or channel. Still confused about advertising or Google Adsense that can improve your website's performance? Our team is ready to help your problems. Please discuss this with our team here!
Sources: How to boost your AdSense earnings